Asian startups in state of tension amid coronavirus pandemic: Tech in Asia survey
Asian startups are becoming increasingly worried as the Covid-19 outbreak starts to negatively affect their businesses, according to a recent Tech in Asia survey of over 140 industry professionals and founders.
About 80% of those surveyed said their businesses have been negatively influenced by the pandemic, which Sequoia Capital described as a black swan event that could trigger a prolonged global economic slowdown. Three in 10 respondents said they were heavily and severely hit by the outbreak.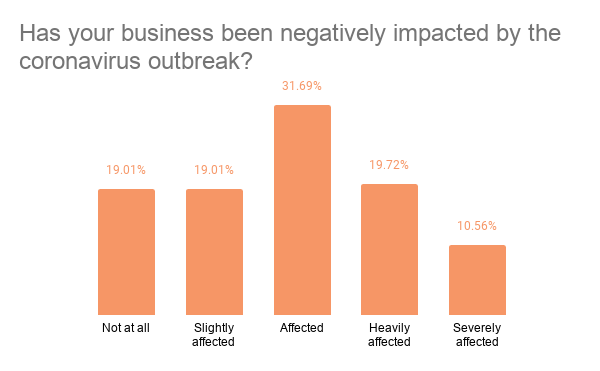 With more than 70% of the startups canceling business trips to minimize the spread of the virus, companies in the travel industry were the most severely affected.
A Singapore-based travel agency said the company had already lost more than US$20 million in potential revenue due to booking cancellations. "We acquire hotels by paying a fixed amount every month," a company executive said. "Now, we still have to pay monthly, yet we have no bookings. We have to break contract with our hotel partners. We can't pay them anymore.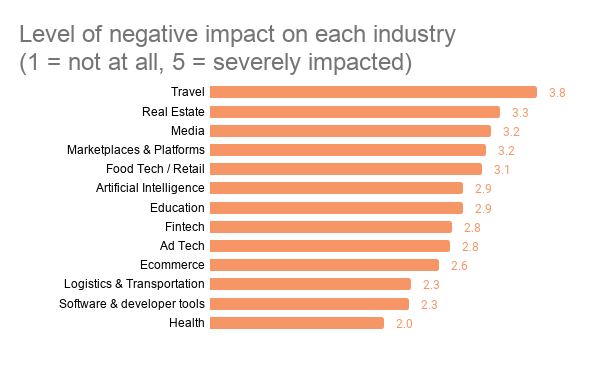 The spike in infections has drawn parallelisms between the new disease and SARS, with some experts suggesting that the global economic cost of the outbreak would be much more severe compared to the latter.
The potential economic fallout was amplified when the Federal Reserve recently slashed interest rates by 50 basis points – the biggest cut since the depths of the global financial crisis in 2008 – amid mounting concerns that the novel coronavirus outbreak would stall the record expansion of the US economy.
If Covid-19 continues to spread, the world may again be heading for another crisis of epic proportions.
With much of China in lockdown to contain the virus from further spreading, the global supply chain has been significantly disrupted. As a result, some companies (about 27% of survey respondents) are looking for alternative suppliers outside of the mainland.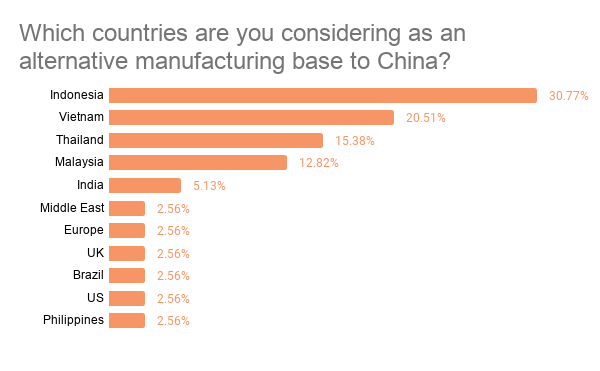 Companies are right to prepare for the worst. Indeed, some are attempting to conserve as much cash by holding back expansion plans and slowing down hiring efforts. This makes sense considering that 40% of the startups Tech in Asia surveyed were seeing delays in fundraising activities.

It pays to be nimble and flexible during these uncertain times, when companies are already reporting losses in potential revenue.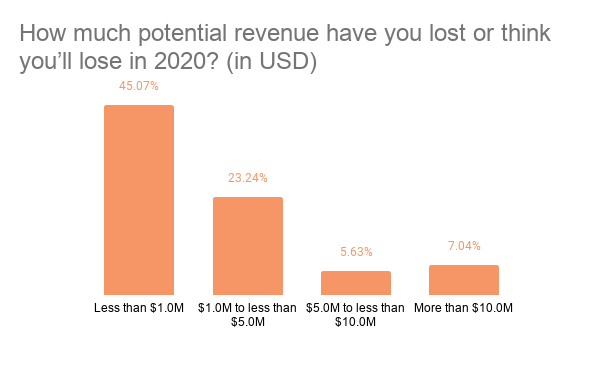 As the situation appears to worsen every day, nations should be counting on their governments to come to the rescue. Unfortunately 68% of Asian startups do not trust their governments' ability to manage the outbreak.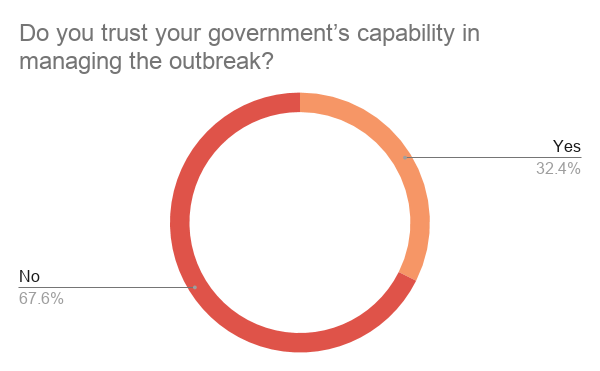 While such skepticism is understandable, it's also not healthy. Life must go on. Eventually, things will be back to normal, and we might even see a big surge in economic activity just like what happened post-SARS.
You can find the full survey results below: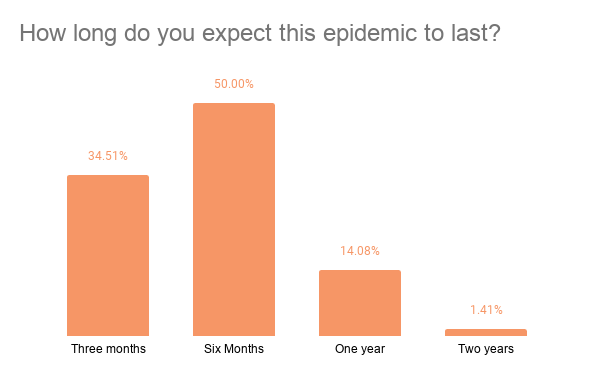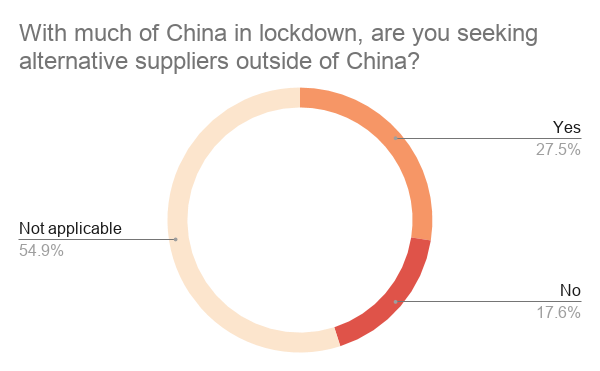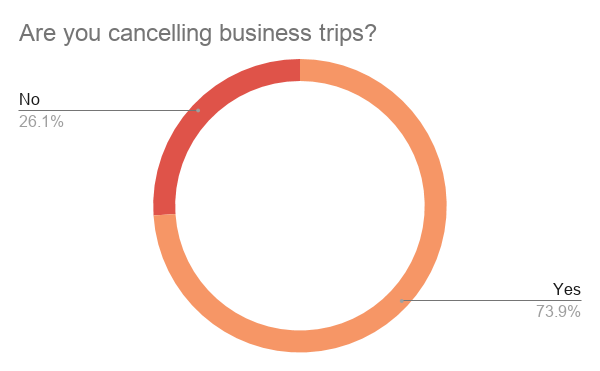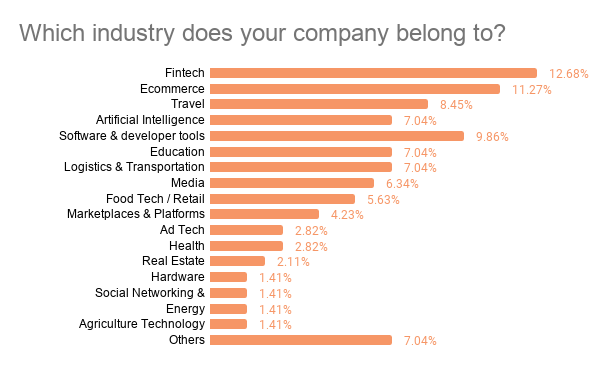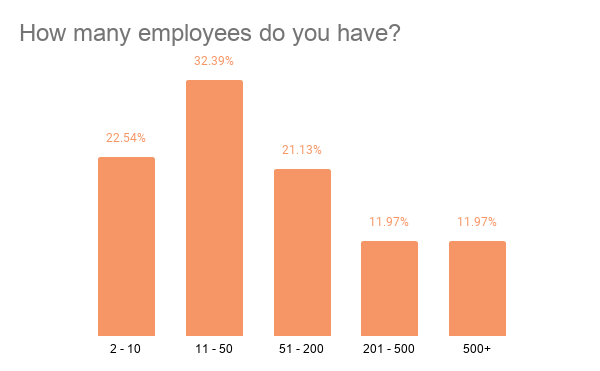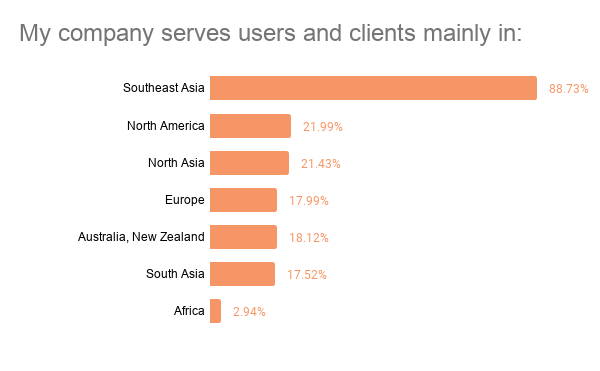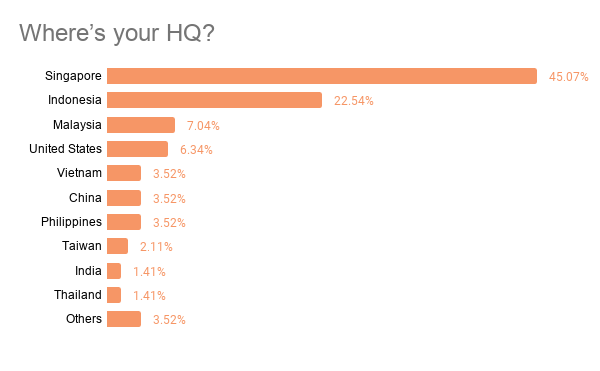 Source: Jonathan Burgos on Tech In Asia
———-
☑️ Startup Wheel – one of the largest startup competitions in Asia is ready for international startups to explore market insights in Asia, especially, expand their business to Vietnam – one of the most fast-growing economic hubs in Southeast Asia.

☑️ The competition runs annually with a 6-month qualification process and is wrapped up with a 2-day event in Vietnam for pitching and exhibiting their products/services to +500 investors, VCs, and large corporations; +200 exhibitors; and 15,000 attendees from startup ecosystems in Asia.

📌 Apply now via https://startupwheel.vn/register/
📌 Application deadline: 25/04/2020
📌 Reach us via global@bssc.vn